Season
2012-13
Play
Two Productions for Young Audiences: Whispers in the Air & Jabber
Run Dates
October 25, 2012–October 31, 2012, School Tour
October 26, 2012–October 27, 2012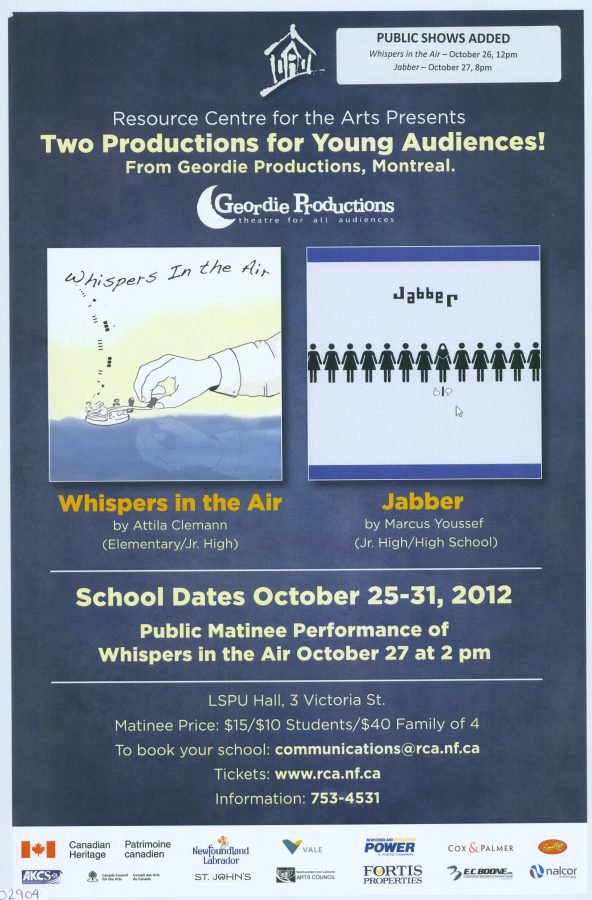 Playwright
Description
A schools tour of two plays for young audiences.
Whispers in the Air: An imaginative production set in Newfoundland in 1901, where a young boy named Alex is trying to find his voice after a loss in his family. Given the job of delivering hot lunch to Italian inventor Guglielmo Marconi at the top of Signal Hill, Alex watches the great man apply the technological prowess of his time, and a lasting friendship develops.
Jabber: Fatima, an outgoing Egyptian-born girl who wears a hijab, is doing her best to fit in at her Canadian high school. Her parents made her change schools recently because of some graffiti that said "All Muslims must die," and the guidance counsellor at her new school is doing his best to help her. She has been told to stay away from Jorah. But, maybe Fatima and Jorah start to like-like each other.
Production type
Producing Partners