Season
2021-22
Play
The Kraken And The Brass Button Man
Run Dates
March 5, 2022–March 6, 2022
March 12, 2022–March 13, 2022
Image features: Brass Button Man puppets. Photo by Ashley Harding.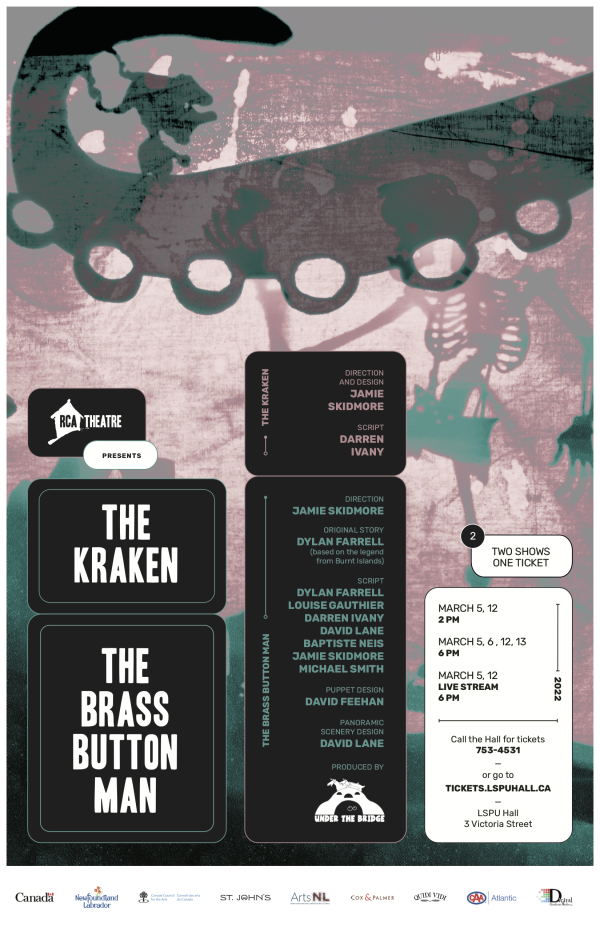 Playwright
Director
Cast
Crew
Description
The Kraken: When the quaint town of Pickled Capelin Cove is besieged by a Leviathan from the sea, it's up to the town's most precocious resident, Beverley Rose, and her pet sheep, Ba, to try and save the day.
The Brass Button Man: A folktale from Burnt Islands, the Brass Button Man, a local legend, haunts the local strait on foggy nights. If you're on the strait in the fog he will sneak up on you, tap you on the shoulder, and ask for brass buttons. If you have one – you're safe, but if you don't he will take you away in his dory, never to be seen again. Told through shadow puppets and moving panoramas, reflective of the storytelling traditions of Newfoundland and Labrador.
Production type
Producing Partners
Under the Bridge Productions
Salt Teeth Theatre Company